Salix | Esenss.com | Biodraw | Erosiondraw | info@salixaec.com
Whiskeytown Logging Road Removal Project
Logging Camp Road Removal
After Peltier Valley road was successfully outsloped, Whiskeytown NRA and Shasta College applied for and received a $30,000 Challenge Grant from the National Park Service. This grant funding was used to complete the road removal work designated for Logging Camp Road. A unique aspect of this plan was that the road decommissioning included a design for a single track mountain bike trail. The restoration plan called for the complete excavation of stream crossings and complete recontouring (except for the bike trail) by pulling back all roadfill. Shortly after the winter of 1997-98, Natural Resources Surveying students from Shasta College measured an astounding 109 cubic yards of sediment (in the sediment pond) which was produced by the untreated Logging Camp Road.

In April of 1998, Shasta College, with the help of an expert equipment operator, removed Logging Camp Road. One mile of road was removed and converted to a trail. Experienced heavy equipment operators performed the work, as it was considered too dangerous for inexperienced heavy equipment students, because of the steep slopes along Logging Camp Road. Students used the sediment pond to monitor erosion during the construction activities. The project took 13 days to complete and over 10,000 cubic yards of road fill was removed from the tributary streams. But El Nino wasn't over, and the project area received over 13 inches of rain. The project was a demonstrated success, as the sediment pond received less than 1 cubic yard - a 99% reduction in sediment.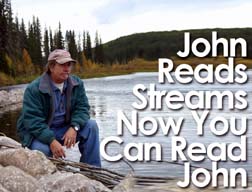 www.watchyourdirt.com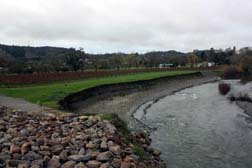 Geyserville Caltrans Bridge Project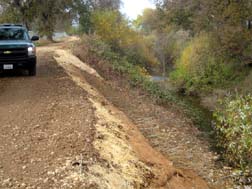 Stillwater Creek Bank Stabilization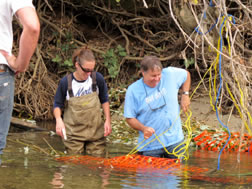 Tara Petti and John McCullah in action.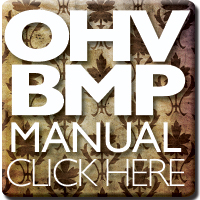 Copyright 2003-2011 - Salix Applied Earth Care - 2455 Athens Ave Ste. A - Redding, CA 96001 - (530)247-1600 - web development by Uberwirks.com